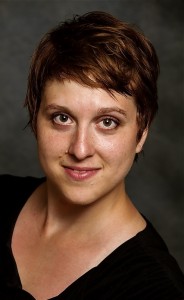 Nellie Rustick, soprano, grew up in the small town of Claverack, in upstate NY.  After being exposed to the arts and music in Columbia County and the nearby Berkshires, she sang for Marjory Goeke (nee Ryan) in Chatham, NY, and immediately began taking private lesson at the age of 10 becoming her youngest student ever.  Marjory often referred to Nellie as 'Miss Lapinski' because of her young age. When Marjory passed away in the late 1990s, her husband Leo Goeke took over her training.  During this time, Nellie competed at NYSSMA, earning high scores each time she sang, and impressing the judges, who often remarked that they had "never heard anyone so young sing this piece so well".  She also began singing regularly at a nearby church, soloing often.  In high school, she began taking lessons with tenor, Brian Cheney, and found her love of musical theatre music.  After landing lead roles in both Oklahoma! (Ado Annie), and Honk! (The Bullfrog), Nellie participated in the New Visions Arts Program, traveling to the Arts Center in Troy, NY for her senior year.  Through this program Nellie chose to apply and enroll at Russell Sage College for Musical Theatre and English.  This later changed to Vocal Performance and Theatre, with Nellie taking lessons from Kara Cornell.  After 3 years at Russell Sage, during which she performed with NYSTI and the RPI Players, Nellie transferred to the University at Albany, and was part of their vocal and studio art programs for 4 years.  While there, she studied under Frances Whittmann, and sang under the baton of Maestro David Griggs – Janower.  With Maestro Janower she sang with the well known Chamber Singers, who were asked to sing in and around the Capitol Region, were known for performing new works, and completed a very successful tour in Montreal.  She sang in many student recitals  and chorale concerts, all the while engaging in outside performances with such companies at the Hubbard Hall Opera Company, Mosaic – Arts Opera Company, the Ghent Playhouse, West Sand Lake Center for the Arts, and Time and Space Limited, among others.  She also held cantor positions at various churches in and around the area, and spent one summer travelling to Sicily, Italy,  where she worked on a recording (Suono Siciliano) and was the American Guest Artist at a vocal competition in Favara.  Her final performance of her college career, again under the baton of Maestro Janower, who continues to be in inspiration and mentor despite his passing in August of 2013, was the soprano soloist in the Dvorak Requiem.
During her last few years at the University at Albany, Nellie met and sang for Madame Phyllis Curtin, and soon began taking private lesson with her at her home in the Berkshires.  Nellie continues to study privately with Madame Curtin, and is only one of two students to do so.  While living in the Berkshires, Nellie has sung as the soprano soloist with the Berkshire Lyric Chorus, most recently at Tanglewood for their 50th anniversary gala (with Maureen O'Flynn), and with the Stockbridge Festival Chorus for their concert of Mendelssohn's Elijah.  She is the soprano soloist and section leader at the First Congregational Church in Stockbridge, MA, and is making a name for herself as a performer of recitals and new works.  Most recently she sang Professor Lucas and Joyce in The Temporary Professor, a new piece by Liv Cummins and Joshua Zant, being workshopped at Berkshire Community College.  Before that, she sang Marybeth in The Beasts, a piece by David Anderegg.
While performing classical music, both old and new, is a priority for Nellie Rustick, she also enjoys performing in musicals (most recently seen as Louisa in The Fantasticks at The Ghent Playhouse), and in straight plays (seen at The Ghent Playhouse, TSL, and West Sand Lake Center for the Arts).  She is an avid recitalist, and also gives lectures on various aspects of music and vocal performance.  Her next big project is as director for the Middle School Musical, in Chatham, NY.  They will be performing Pirates of Penzance.