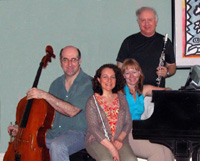 Lisa Arkis, flute
Monte Morgenstern, clarinet
Peter Prosser, cello
Susan Sobolewski, piano
Serio Divertimenti (translation: Serious Fun), a chamber music ensemble, is dedicated to presenting serious music with an attitude of gusto, zest, and fun, and also to performing 'fun' music seriously, recognizing that it is not only treasured classics that deserve to be played well, but also 'less serious' and less 'well known' music. The ensemble has a wide variety of programs, including thematically conceived presentations, as well as traditional chamber music recitals. It boasts in its repertoire not only the favorite chestnuts written by the old masters for its combination of instruments, but also original works, transcriptions, commissions, and arrangements of jazz, pop, and beloved Broadway tunes. Each musician brings to the ensemble a breadth of solo, chamber, orchestral, and other performance experience to make for a diverse, and ultimately very communicative and vibrant music ensemble.
Since its origins as a trio in 1993, the ensemble has performed at colleges, museums, community concert series, hotels, Carnegie Hall and had its own series for ten years at a summer resort.The recent addition of a flute has given the ensemble more flexibility and the ability to expand its instrumentation even further for specific pieces or occasions.
To book this ensemble CLICK HERE